注册您的 Peak Genius XE 氮气发生器
有两种方法可以激活您的 Genius XE 发生器。
1. 访问 www.peakscientific.cn/activate
2. 下载 Peak Genius/Peak Scientific 应用
这两种方法都需要使用您的气体发生器序列号 来激活您的产品。
如何找到您的Genius XE序列号
您可以在发生器正面的 LCD 显示屏上或设备背面的标签上找到 Genius XE 序列号。序列号将以" S/N:"表示,包括 LCD 显示屏上的9位数字和设备背面标签上的18位数字 - 对于后者您只需要输入最后9位数字即可激活您的发生器。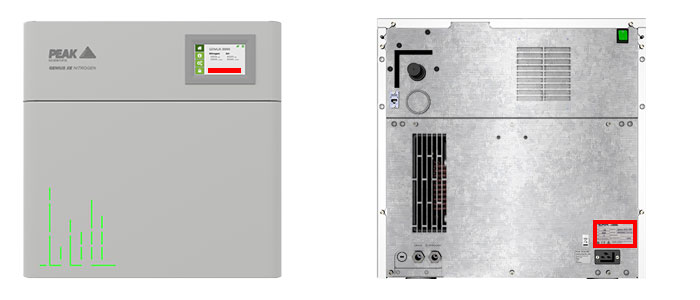 我的 PIN 码无效!
请检查您是否已正确输入 9 位序列号。实例:
如果您的序列号是在发生器正面 LCD 显示屏上的"S/N:77XXXXXXX",或者是在设备背面标签上的"序列号 00000000077XXXXXXX",请只输入以"77"开头的最后9位数字,不应有字母、空格或特殊字符。
获取 Peak Genius/Peak Scientific 应用
要开始激活过程,您的智能手机/平板电脑需要有 Android 4.1 或更高版本或者 iOS 8 或更高版本的操作系统:
使用 Peak Genius/Peak Scientific 应用注册您的发生器
只需将该应用下载到您的 Andriod 或 Apple 设备即可。
一旦安装,请选择您的语言。
接下来选择应用上的"+"符号以注册一个新的发生器。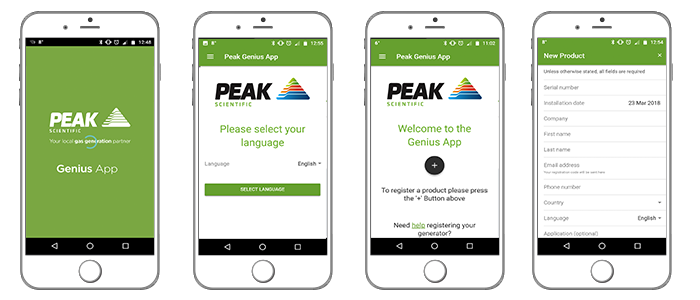 输入发生器的9位序列号,记住只输入序列号以"77"开头的最后9位数字。
接下来在注册表格中输入所有相关详细信息,包括安装日期、电子邮件地址和公司名称。
提交表单后,会显示一个4位数的 PIN 码。此 PIN 码将用于激活您的发生器。
此时,将有一封电子邮件发送到您提交的电子邮件地址。这可以使您保留发生器的激活 PIN 码以备将来参考。
如果您需要激活额外的发生器,请为每台发生器重复此过程。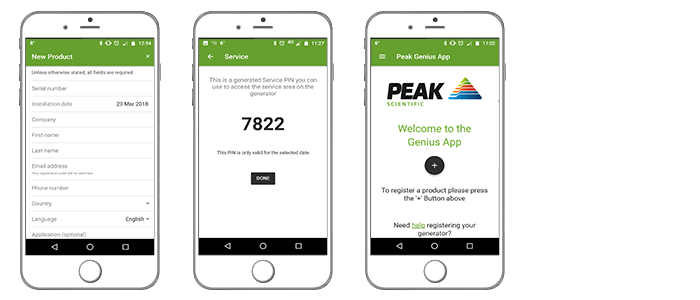 通过在 LCD 显示屏上选择"我已获得 PIN 码"按钮将该 PIN 码输入到设备中。
一旦输入 PIN 码,您新的发生器将开始初始化。

---
Peak service agent sign in to the Peak Genius App
Once the generator is installed, you will need your service username and password. If you aren't sure whether you have these:
Contact your local Peak technical support desk
Fill out the username and password request form
How to sign in
You will need a username and password to sign into the service section of the Peak Genius App. If you've forgotten your password and need to get a new one please use the password reset function located on the sign in page. If you need to register for a new account, select "Request Access" on the sign in screen to request an account.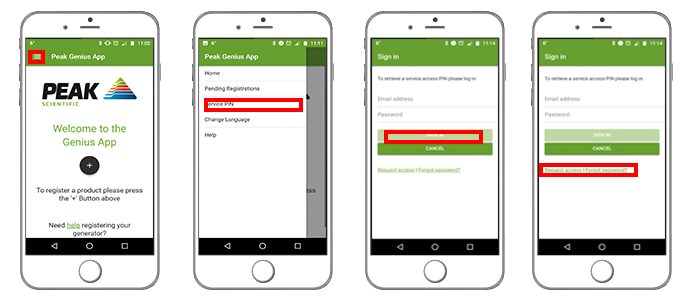 Service PIN code creation
Once you have your account allocated by your local Peak technical support desk, complete the following steps:
Login using the Service PIN section of the app with your assigned credentials, this is located on the upper left corner of the app in the main menu.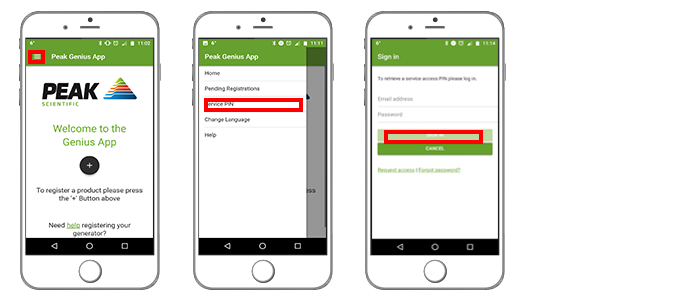 Enter the generator's 9 digit serial number, rembering only to enter the last 9 digits of the serial begining with "77".
Select the date that you will be servicing the generator. Please note: the date must match the date shown on the generator's LCD screen.
Select "Generate PIN".
A 4 digit pin will display. This pin will only be active for 24 hours.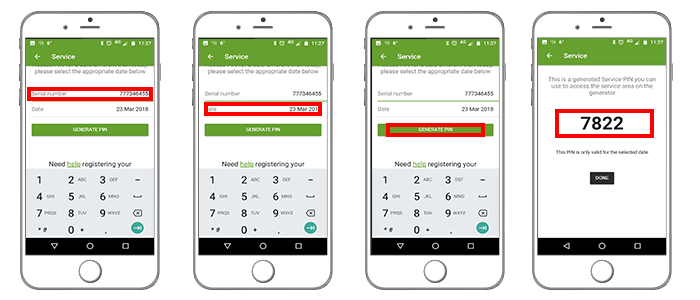 Enter the code into the unit by selecting the unlock button on the bottom left of the LCD display once the code has been entered. This will allow you to access the service area of the user interface.

Please note: If you're having trouble using the Peak Genius XE App on Android, you might need to clear the app's cache or data.
---